Active Plastering is a company that specialises in Plastering, Painting & Decorating and many more home improvement services. Below is a list of all services we offer.
Plastering – Skimming – Rendering – Pebble dash -Plaster Boarding
Over Boarding – Covering of Artex – Dot and Dab – Dry Wall – Bonding
Plastering is a process used to produce an acceptable final wall or ceiling finish to a building prior to decoration. A substrate is a surface of which the plastering system is to be applied. Backing coats which cover the substrates are between 9mm and 40mm thick under normal circumstances and the overall thickness can be built up in coats as is necessary.
Ceilings and Partitions – In older buildings, these areas are covered in a layer of timber laths which are plastered over. When strength is required, a thin steel sheet mesh called expanded metal lath is fixed in place and then plastered over. In contemporary fast-track work, plaster boards are fixed in place, the joints taped with a fibre mesh tape (scrim) to prevent cracking and then skimmed over with a finishing coat of a gypsum plaster.
Plasterboards – A basic plasterboard is a flat sheet of gypsum on average around 10mm thick, sandwiched between sheets of durable paper. Boards are also available with various backings of differing thickness to improve insulation, restrict the passage of water vapor and to protect against fire. It has become common practice to bond or fixes plaster boards to substrates to serve as the backing plaster coat. This method is known as dot and dab or drywall.
Finishing Coats – Finishing coats are usually between 3mm and 5mm and bring the backing coats to a smooth skim finish. Finishing plasters used to produce these setting coats are available as pre mixed gypsum plasters. Finishing coats can also be lime putty and fine sand or a mixture of lime, sand and gypsum known as gauged setting stuff.
Solid Plastering – Solid plastering denotes backing coats of a paste or mortar-type consistency comprised of an aggregate and a binding matrix. Binders include lime, gypsum and cement. Aggregates include sand, vermiculite and perlite.
Painting & Decorating – Interior & Exterior Painting
The purpose of painting is to improve the aesthetic of a building and to protect it from damage by water, rust, corrosion, insects and mold.
Ceramic Tiling Floors & Walls
Wall and floor tiles come in ceramic, slate, marble and glass. Which can be fitted using glues, grout and cement. Tiles are frequently cut in order to fill small edges or make particular patterns. Tiles provide both a decorative and protective function, especially in spaces that experience ongoing wet or damp conditions such as kitchens or bathrooms.
Wooden flooring installation
Wooden floors can all be laid in many different ways. However, most commonly, real and solid wood floors use a system where sections of floor are slotted together using tongue-and-groove. Despite differences between manufacturers (a few floors require adhesive and some require fixing clips), the principles of how floors are laid remain fundamentally similar.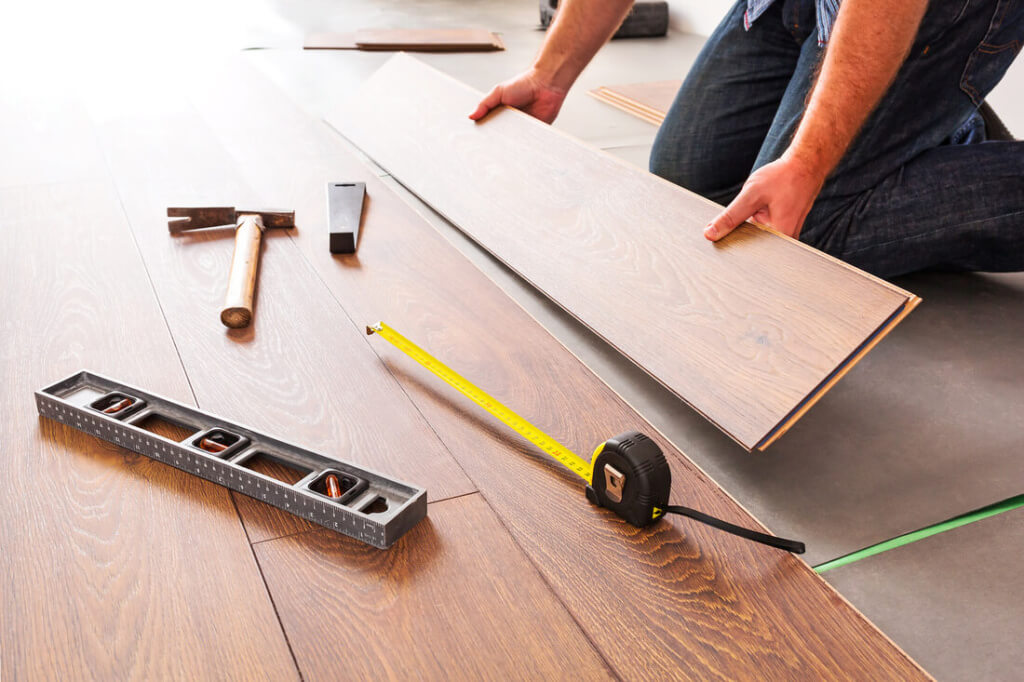 Skirting board installation
Skirting covers the joint between the wall and the floor. It makes a decorative border while hiding the gaps that are needed to cope with the natural expansion and contraction that takes place in a house. It also suffers a lot of hard wear. But luckily, it isn't too complicated to replace – and you can choose from a wide range of profiles. Alternatively, you might want to restore the skirting if the original moldings have been removed from your home, or fit it on a newly-built stud partition wall.